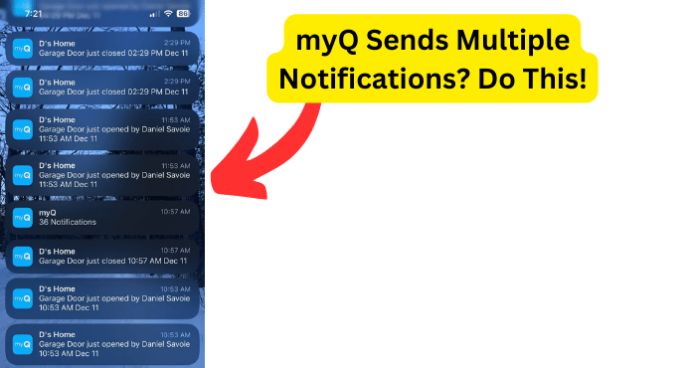 myQ app notifications let you know when the garage door is locked and unlocked, who has accessed your home and when the lights have turned on and off. A normal myQ app notification takes about 60 to 90 seconds to relay or push to your phone or Email address.
You should only get one notification. If you get multiple notifications then there is a problem with your app. Here are the causes:
Why Does myQ Send Multiple Notifications?
1. You have selected multiple notifications
Fix 1 – Toggling off
Click the three dots…-which means more features, found to the right of the name of your device
This brings up a list of additional features
Choose Notifications and Alerts.
Note whether you have toggled ON multiple of the same actions(e.g. 2 garage door notifications)
Toggled the second one OFF
Your app will resume to getting only one notification.
Fix 2 – Deleting notifications from myQ app account
Swipe left on iOS, you can delete the duplicate notification. I'm sure Android has a similar method to delete it as well.
Go to the device name
Tap three dots … the alert is associated with
Select Notifications
Long Press Notification you want to delete
Tap Delete (Android) or Swipe left (Apple devices)
Notifications and Alerts are both on
2. Alerts and Notifications Are Enabled
Both Notifications and Alerts inform you that there is an event concerning either a door opening, closing or stopping or a light turning on or off. Follow this path to turn off the alert or notification off.
Fix – Deselect either Alert or Notifications mode
Go to right hand corner of myQ app (appears like 3 boxes).
App will cycle between device views.
Select the problem device.
Click on the three dots… and
Scroll down to "Notifications and Alerts".
You'll see two toggle bars, one for Alerts, the other for Notifications.
Deselect one of them.
App has not reconfigured itself to recognize 'preset notifications'
3. Preset Notifications Are On
"Preset notifications" are now included in the myQ app. There is one preset for open garage and another for close garage. There is also another for lights off and lights on. Preset notifications have a schedule.
These features are not found on older versions of myQ app and some do show up on older version myQ app but are not recognized until you delete and reinstall the app.
When these presets, along with your previously set-up notifications for opening and closing the garage alerts for turning on and off lights are both toggled on it may result in duplicate alerts.
Fix 1 – Delete and reinstall app
This sets your notification settings and others back to default. Follow this path for your iPhone.
Go to app Settings
Scroll down to General and tap on it
Tap on iPhone storage
Search for myQ phone app and click on it
Tap on Delete App to unistal app from your device
Once uninstalled open the App Store app
Search for the myQ app at the left bottom of screen
Click on the Get button to install it back on your device
Open your new myQ app
Fix 2 – Preset new notifications
Your preset notifications will override manually set up notifications when you delete and reinstall the app.
How to preset notifications on myQ account
Tap plus sign + on main screen
Click Notification
Select the myQ connected Device that you want to receive notification (which door or light?)
Give your Notification a name
Choose conditions by ticking or making a checkmark on the option on which you want the Notification to be triggered: for example:

Garage door opened
Garage door stopped
Garage door closed
Light is on
Light is Off

Indicate when you would like to be notified

Immediately-Notifications happen instantaneously as the device changes.
Remind Me- You can set an amount of time before or after the notification happens

Pick when you want to receive or activate notifications

Choose either 24 hour or 7 days for all days
Or customize the hours according to your schedule

Choose which notification method you prefer

Push(phone)
Email (computer)

Click on Save to retain changes
After following this procedure notifications will activate after 90 seconds. If they do not show after within this one-and-a-half-minute period check your device, verify whether you turned on the request for notifications during app installation and allowed for push notifications.
Also ensure that zip code and time zone are correctly updated in your account settings for correct time.
4. Older version myQ app may have glitches resulting in multiple notifications
It's important that you check whether your app is on latest version. Older versions tend to have bugs which may cause your app to show multiple notifications. To confirm whether your phone is running the latest version of myQ app
Open up App Store/Google Play store
Tap on Search(magnifying glass) icons on the left bottom or top right corner of screen for android and iOS respectively
Type in myQ app in search bar
If myQ app appears in results with an Update button next to it know you are on an older version
Click on it to update to latest version
Fix – update phone as illustrated above.
5. Your phone is using one login for two co-owners
You can invite another user to be part of myQ account. The user can be either a Co-Owner or a Guest.
Co-Owners are people who are close to you. You trust them and share with them your myQ account settings and features. They can view and manage your myQ devices, go through history logs, activate and receive notifications, make or change schedules, and can invite other guests to your myQ account.
Guests have restricted access to specific devices you share during specific time periods. Their access is reduced to opening and closing garage doors and gates, locking or unlocking a door with a smart lock and turning a light on and off. Guests will not have admission to view history, or change notifications and schedules.
If you happen to share the same login as another co-owner then the phone will send multiple notifications one for each co-owner.
Fix 1 – delete your myQ app
Fix 2 – reinstall the myQ app on separate phones using our separate log ins for each co-owner.
Follow the steps outlined below to set up a new account and log-in afresh
Download and install the myQ app on your Android or Apple iOS device
Open myQ App
Tap Get Started
Click on Sign Up
Choose your Country
Enter Name, Password, Email
Go over License Agreement and Terms of Service
Click on Submit
[email protected] will send you an email using the email address you used when creating your myQ account.
Open the email and click the link to verify your email address.
myQ app opens, signifying registration was successful.
Tap OK
Type in Email address and password
Click on Login
Select Remember Login
Registration is now complete
Your Homekit Automation has firmware fault or interference from other automation apps or services in the vicinity
If you have got any automations setup for the garage door to be closed or opened or lights to be turned off and on conditionally such as when "door " opens or after "ten minutes" send notification, then your door might experience some kind of delay and lag and keep running the same notification over and over.
The cause of this could be sort of HomeKit automation firmware problem or interference from other automated devices.
Check anything else you might be using for automation like IFTTT or Shortcuts app.
IFTTT a free web service that links many developers' devices, services and apps to form "applets" that execute automation to support users to computerize web-based tasks and increase productivity. Shortcuts is a manually activated app from Apple that helps to automate your apps and do tasks much faster. It can be enabled by clicking on it or asking Siri to open it.
Fix 1- Switch off or disable the automations in Shortcuts and turn off the Applets on IFTTT.
Fix 2- Contact the Chamberlain support to fix your firmware by sending a software update.
All these fixes can help your myQ from sending you multiple notifications.